Origin of THE BLACK POTTERY "LA CHAMBA". Tolimas/Pijaos Indian's Territory -  (7370 BC - 500 AD)
The then Tolimas/Pijaos Indian's Territory, is the current state of Tolima which is located in the central-western part of Colombia, between the Central and Eastern Cordilleras (mountain chain) and represents 2.1% of the national territory.
Tolima was the name of the groups of Indians that inhabited the territory of the present department which has the same name, consisting of the groups Panches and Pijaos at the south and north among others, who were known to have fought hard against the Spanish invadors.

It is thought that this area was the center of the Colombian matrix from which cultures were irradiated in the south and north. The truth is that the Indians had to remain in this area for several centuries, since it would otherwise not be possible to explain the stylistic and different stages in their sculptures, which, as tested with the Carbon 14 method,  are dating from the sixth century B.C. to the most recent, XII century A.C. It must have started when a sedentary lifestyle took place, which allowed the pot clay to dry in the sun. They refined, manufactured and decorated the surfaces of their pottery. This is how the 'Potter Master' appeared, transmitting his knowledge while discovering new methods of making the pottery which is of vital importance in the life of the incipient village.
The Pijaos were great potters (alfareros). Their pottery varied in forms and decorations for domestic and ceremonial use; jars in many forms, predominantly narrow-necked pitchers with applications in geometric shapes and negative drawings in ocher, sepia and black. Particularly beautiful were their funerary urns, the anthropomorphic and small funeral seats.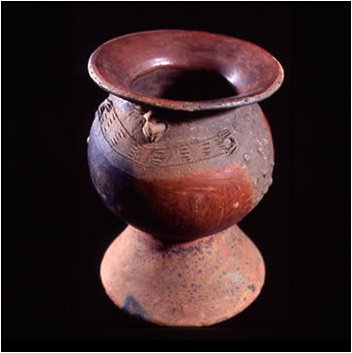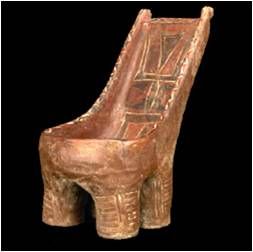 Their descendants, the inhabitants of the village of La Chamba in Tolima - Colombia, have continued with the tradition, creativity and techniques of their ancestors the Pijaos. From generation to generation, they are allowing us to enjoy these original products being as pure, natural and authentic as is its own story. The Ceramics of La Chamba, better known as "The Black Pottery".